If you've ever watched a landlord, building owner, housekeeper, or janitor open up a door with one master key, perhaps you were left with many questions. How can one key open up every door, but when you use the key meant for just that door on another door, it won't let you in. The answer is in how a master key system works.
Large companies want a way to restrict access based upon an individual's responsibility or standing within the company. A Master Key system allows different levels of restricted entry. Some create a graduated access level. A Master Key system allows two or more keys to open one lock, but only when the locks and the keys are the same keyway and set up to do so.
Some terms you need to understand when learning about Master Key Systems include:
Springs
Driver pins
Shear line
Master wafers
Lock pins

Most Master Key systems work off of a basic pin tumbler lock. To open this kind of lock, a pin stack that consists of a driver pin and a key pin must be elevated so that the two rest on opposite sides of the shear line. The key lifts the key pins within a lock. These key pins are all different sizes while the driver pins are a universal size. So, to open a lock, the key needs to have the right set of grooves to lift the key pins to the correct height.
With the basic lock/key system understood, all that is needed for any standard pin tumbler to be turned into a Master Key system is to add what is called a master wafer, sometimes referred to as a master pin, between a driver and key pin. This master wafer is shaped like a small disc-shaped pin. Once it's in place the pin stack will have two shear lines – one shear line for a pin stack with a master wafer above or below the line. The larger the distance between the Master and the Change key, the more master wafers will be needed. For each additional master wafer, an extra shear line is needed in the chamber.
The Master Key System
Master Key systems have several options, but most include one master key and what is called change keys. There may also be a Grand Master Key and a Great Grand Master Key involved. In order from the least amount to the greatest amount of entry, the keys are explained like this:
Change Key – Sometimes this key is called a sub-master key. It is able to open only one lock. However, a change key lock can also be opened with a Master Key.
Master Key – Locksmiths often refer to this as an "MK". This key will open all of the change key locks that are set up within the Master Key locking system.
Great Master Key – Locksmiths sometimes refer to this as a "GMK". Sometimes the Master Key system doesn't stop with one Master Key but also has a Grand Master Key that is able to access multiple Master Key systems that are under it as well as all of the change keys within the Master Key system.
Great Grand Master Key – This one is the top of the Master Key system. It will open all of the grandmaster key systems under it.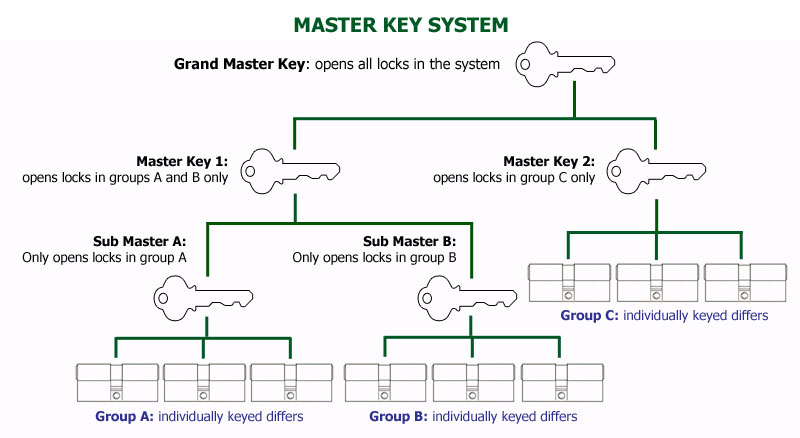 Contact a professional locksmith for Master Key System
Before you decide on installing a Master Key system, contact a knowledgeable locksmith who will be able to walk you through the process and recommend which Master Key system is best for your needs.