Eviction Locks Changing, Eviction Lockout, And More Information About Eviction Locksmith Service
Eviction is never an ideal, first step. It's always used as a last resort to remove a renter, lessee, or homeowner who has breached a lease or failed to make payments. In these situations, a locksmith is called in to change the locks on a rental property for a landlord or mortgage company. Locksmiths are also sometimes used by tenants prior to a legal eviction.
There are certain criteria to keep in mind when an eviction occurs. Both the tenant and the landlord have rights, and there are proper procedures to follow as to know when to get a locksmith involved:
As a tenant, if you arrive to find your home boarded up, call law enforcement immediately. Landlords are not legally allowed to lock a tenant out of their place of residency. The only possible exception to this rule of thumb might be if a legal Court Order for eviction has been obtained in the case of a home abandonment or if rent has not been paid. If you are still not allowed back into the property, call an attorney to obtain an Emergency Reentry Order or a Restraining Order, depending on your circumstances.
Locksmith for Eviction Service
A locksmith is legally allowed to help a tenant re-enter their rental home provided a Court sanctioned Emergency Re-entry Order is obtained and shown.
A locksmith is legally allowed to install security devices for a tenant provided the rental agreement or lease allows it.
A locksmith is legally allowed to duplicate keys when shown proof of residency or for vehicles used during a move.
A locksmith is legally allowed to open mailbox locks, safe locks, garage locks, or storage area locks if proof of ownership is provided.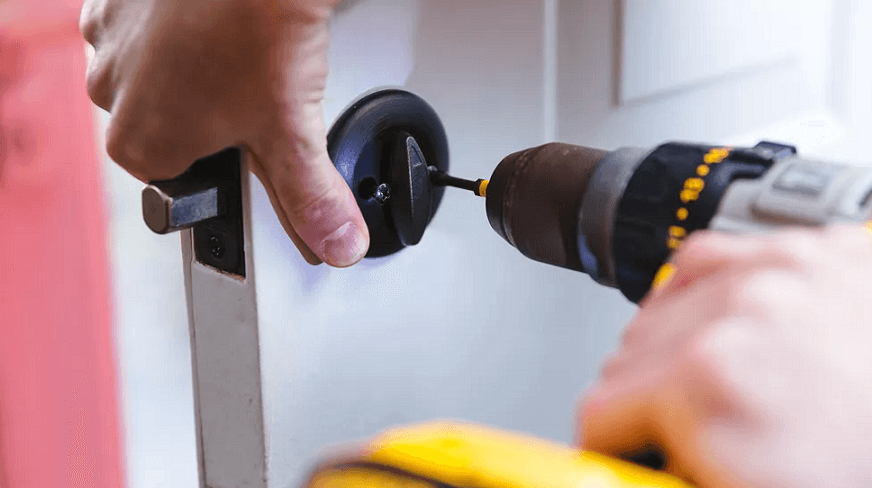 When a landlord has an Order for the Sheriff to evict an occupant, he or she may then call upon the services of a locksmith and plan on having the locksmith technician arrive at the same time as the sheriff. When a renter becomes uncooperative, a locksmith is often able to open a door, leaving no damage to the lock or the door.
Evictions create bad feelings, and retaliation often occurs in the form of break-ins or other property damage. Landlords need to be aware of the potential for damage, theft, or break-ins and take necessary steps to avoid harm.
Once the apartment, condominium, or house is vacant, the landlord will need to have all of the locks replaced or changed to ensure the security of the premises. Landlords should then consider changing locks, security cards, and settings on key-less entry locks, intercom systems, safe locks, garage locks, storage area locks, gates, and mailboxes.